Rediculous First ascents up for grabs.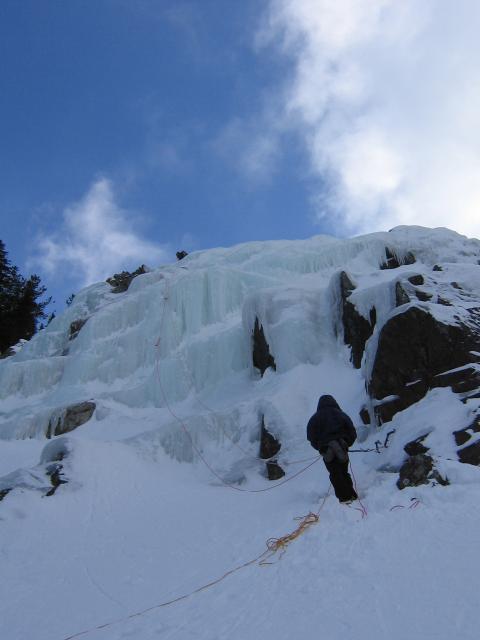 FA? "Contact Falls" IV, WI 3+,150'. (R.B.,L.R.,O.E.) 2/10/09
See also: Spray post "Good training for ninjas", I don't think I'm stepping on any toes by giving away this "new" spot.
For all you jonesers wanting some first ascents listen up!
Where this climb lies in the East Boulder Drainage just south of McLeod there are numerous flows of ice just waiting to be climbed. Maybe some numbers will help you get there?  The drainages are just West of Wright Gulch. NAD 83 Lat N45 29.600' Long W110 9.546' Elevation 9000'.
If you drive up the E. Boulder Drainage toward the mine you'll come to a corner by a logged meadow where you can view the climbs and park to start the approach. In the eastern drainage there is a good looking big shield of ice that is wider than it is tall, 60+m?, low angle? When we went back to do it last week it was mostly covered in snow... so we explored elsewhere.
In the western drainage the pictured climb is the most easterly and then to west of it there are 3 or 4 more flows that should be entertaining if the snow conditions stabilize a bit.
Slog on, its good training for something...
Olin