Winter Dance. Select Ice Climbs in Southern Montana and Northern Wyoming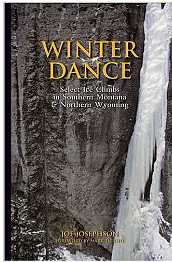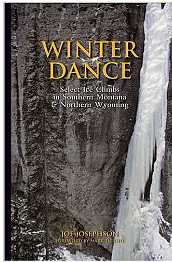 CURRENTLY OUT OF STOCK. Check back soon!
Dedicated to the late Alex Lowe, and named after his favorite ice route, Winter Dance is now available at select retailers featuring 380 full color photos for 300 of the best climbs found anywhere between Colorado and the Canadian Rockies. Detailing more vertical feet of ice and mixed terrain than any guide in America, Winter Dance covers the Big Sky and Bozeman area, the Absaroka-Beartooth Wilderness, Yellowstone National Park, and the South Fork valley near Cody.
Winter Dance is the culmination of Josephson's 15 years thinking and writing about ice climbs. Bringing together the stories and photographs from 25 years of route development, Winter Dance represents the first time, in-depth and comprehensive coverage has been written for the area. It includes historic routes like: Rock Creek Falls (1968), the first "front-point" route in America; all of Alex Lowe's ground-breaking mixed routes in Hyalite and Cody, which remain among the most serious leads ever; to the most concentrated ice climbing venue in the lower 48, the South Fork of the Shoshone River in Wyoming.