We live in a small house next to a large, empty lot. We own the empty lot, too. there used to be a house there, I've heard, years ago, but it had no foundation, and rotted into the ground. Eventually, it was condemned and demolished and replaced with, well, Kentucky blugrass. Who says that the last crop that ranchers around here grow is 'Houses'?
We've been watering that Kentucky bluegrass for a few years now. It's areally sunny area, and in July and August, gets more than its share of sun. No amount of water could keep that area green. Alive, sure, but not green. Only chemicals could do that. The water consumption pained us.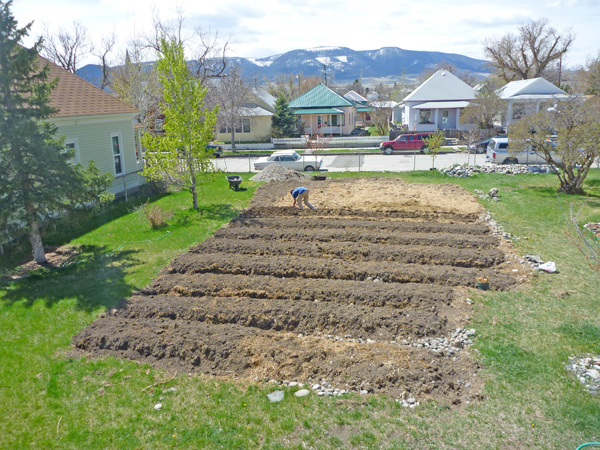 Last year, Joe Joe put us in touch with a fellow, Nathaniel, who wants to grow a really big garden. Like, really big. He's the bartender at the Second Street Bistro in Livingston (connected to the Murray Bar ... if you haven't been there, then you probably have never been to Livingston.) The Bistro is committed to local agriculture and the tasty food that results.
Nathaniel has the goal of growing food to sell to the Bistro. He's in line to do so, I think. The empty lot is turned and plowed, beds dug, seeds readied. It's been, of course, a lot of work. But when it's done, the patron of the the Bistro will have some REALLY TASTY FOOD.
And all produced with barely a drop of Petroleum Oil.
Next related subjects include: Become a third world laborer by mining your own gravel from your yard; and a breakdown of petroleum consumption for sources of food.