Bruce Miller (Boulder, CO), Rusty Willis and I went to Cooke City during the LOW avalanche danger on Fri/Sat Jan 25 and 26. We climbed Marlboro Madness which was way fatter than the guidebook picture. Great ice on first pitch and ran the next two together with a 70m rope. The approach nor descent were pleasant. We had skis (2hr 20min in); snowshoes would likely be no better.
A lot of ice was in: Hydromonster, South of Summit, Jeff and Jim's, Baronette Falls, climbs to the right of Baronette Falls were fat too. Dancing with Hippos was broken off, Skull Cave was not in.
We climbed the first two and fourth pitch of Jeff and Jim's Excellent Adventure. The Y pitch was stellar, once again way fatter than in the guidebook. We soloed the second pitch and wallowed over to the next drainage to the right and climbed a new pitch. It's a 25m pillar that Bruce led. There was a two inch wide fracture at the base and Bruce led up delicately. It was a beautiful pitch and worth doing. Bruce named it "Quiet Please. I'm Alpine Mentoring". We then tagged the fourth beauty pitch of Jeff and Jim's and rapped back down.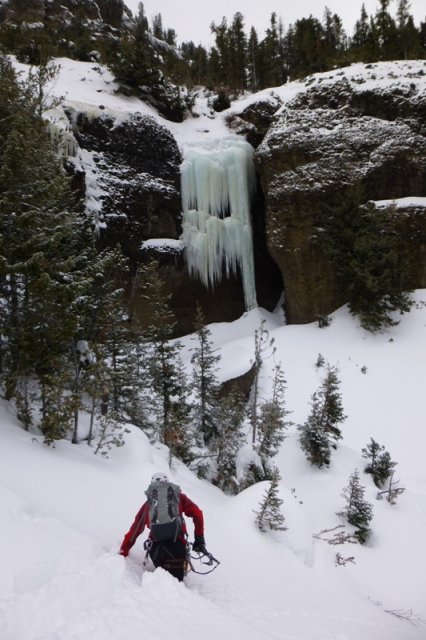 Bruce approaches Quiet Please. I'm Alpine Mentoring.